The Board of the BC College of Oral Health Professionals (BCCOHP) is pleased to announce that Dr. Chris Hacker has been appointed Registrar/CEO on a permanent basis.
Chris's appointment is the result of an independent national search process that took place throughout the fall. He had been serving as Registrar/CEO until the Board's search process was complete.
"Chris has consistently demonstrated outstanding regulatory leadership skills and an ability to deliver transformational change," says Board Chair Carl Roy. "He led the staff team through the amalgamation to create BCCOHP, and having gone through a rigorous recruitment process, Chris has the Board's confidence and full support to lead BC's second-largest health professions regulatory college."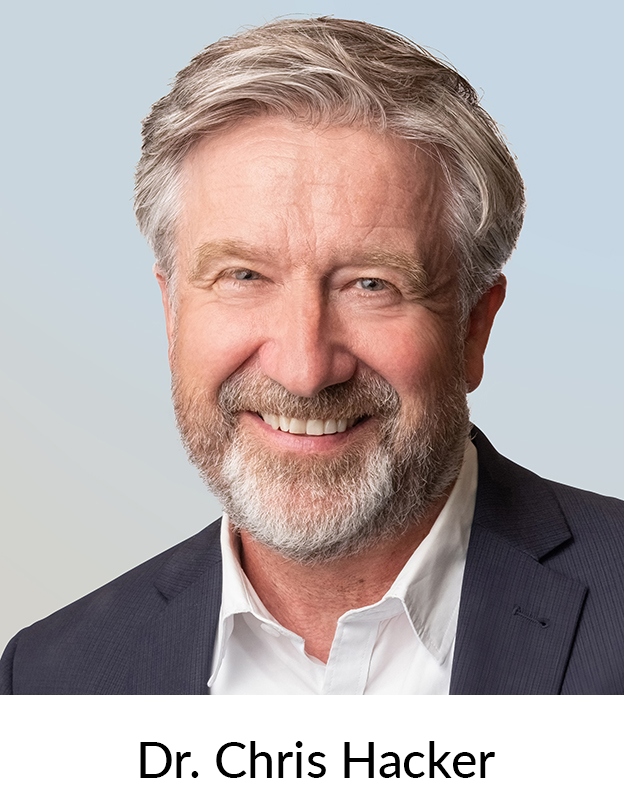 Following more than three decades as a practising health care professional, Chris moved into regulation in 2011, where he took on a series of progressively senior roles until his appointment as interim registrar of the oral health amalgamation project in 2021.
"I remain inspired by the courage of the four legacy college boards to replace their organizations with a new regulator that enables team-based, collaborative care by all members of the oral health team," says Chris. "The Board of BCCOHP is clearly reimagining oral health care oversight, and I am honoured to be entrusted to deliver that for the Board and in the service of patients and the public."
About the search
Five members of the BCCOHP Board – public and registrant members – served on the search committee, which was supported by Boyden, an executive search firm.
The search committee relied on external expertise from Boyden and multiple points of data to determine that Chris was the most qualified candidate for the Registrar/CEO position:
Boyden conducted an extensive outreach at a national level, with close to 200 individuals sourced and/or approached and advertising on several websites, including those that focus on health sector leadership positions.
Following screening calls of all applicants, Boyden conducted structured interviews of 12 candidates using an interview guide, with questions based on the candidate profile identified by the search committee.
The search committee invited six candidates for an interview, using a decision matrix to evaluate each of the candidates. This resulted in a shortlist of three candidates.
The shortlisted candidates participated in a second interview. This included a formal presentation, leadership assessment and psychometric testing by a corporate psychologist. Reference and verification checks for the external finalists were conducted.
The search committee then made its recommendation to the Board, which was approved earlier this week.
About Chris Hacker
Chris was most recently the Registrar/CEO of the College of Dental Surgeons of BC (CDSBC), until its amalgamation to become the BC College of Oral Health Professionals. Highlights of his regulatory experience include:
Change agent providing leadership, oversight, and accountability for:

the transformation of CDSBC in becoming a leading, modernized, public-focused health professions regulator, and
the implementation of the Oral Health Amalgamation Project and transition to a single oral health regulator.

Creation and delivery of CDSBC's 32-item Action Plan in response to an external review by regulatory expert Harry Cayton.
Pandemic response: Chris championed the development of guidance for all oral health professionals to deliver safe care to British Columbians through a singular, collaborative approach to provincial oral health infection and prevention control that was the first of its kind in Canada.
Elevating CDSBC's commitment to Indigenous cultural safety and humility, including driving organizational and regulatory initiatives to improve health outcomes and address Indigenous-specific racism.
Professional thought leader enacted through educational clinical instruction at the university program level.
Numerous regulatory presentations, workshops and national working groups on governance and regulatory modernization.
Executive member of the BC Health Regulators, which is made up of all provincial health regulatory colleges.
35 years as a dentist member of a collaborative team-based model of patient-centred care comprised of regulated and non-regulated oral health care professionals and providers.
About the BC College of Oral Health Professionals
BCCOHP regulates 16,000 certified dental assistants, dental hygienists, dental therapists, dental technicians, dentists and denturists. As a regulator, we protect the public in three main ways: by ensuring that oral health professionals are able to practise competently; by setting expectations for the delivery of safe and patient-centred oral health care; and by investigating complaints about oral health professionals.
BCCOHP respectfully acknowledges that our offices are located on the traditional, ancestral and unceded territory of the Coast Salish and Lekwungen-speaking Peoples, represented today by the Musqueam, Squamish, Tsleil-Waututh, Songhees and Esquimalt Nations.